WooCommerce vs Shopify: the battle between versatility and convenience.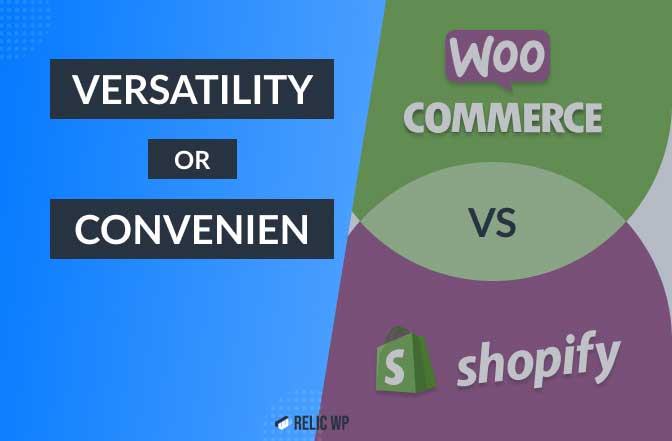 WooCommerce and Shopify are two major players in the eCommerce CMS industry. So, It's only natural to get confused when choosing your first eCommerce CMS. I know how you feel. Years back, when one of my clients wanted to scale their business, they got confused and asked for my assistance. Needless to say, I was clueless as well.
With a few google searches I came to the conclusion that WooCommerce is unrivaled. And the decision was right at that point. But a lot has changed since then, Shopify has come a long way. The world of eCommerce backstage is not black and white anymore. It has grown gray. So a comparison between these two titans is overdue. So here I go, my two cents on WooCommerce vs Shopify.
Over the course of the last 5 years, I have accrued many eCommerce clients. Some prefer WooCommerce, others Shopify. All of them have their own reason to choose one over the other. Hopefully, after reading this clear comparison, you can make up your mind and make a calculative decision.
Fundamentally, Shopify is a plug and play platform. You need little to none technical knowledge to get started with Shopify. It is slick and user friendly. But it lacks the versatility WooCommerce provides.
WooCommerce, on the other hand, is highly versatile and flexible. WooCommerce is a plugin hosted on WordPress, which happens to be the biggest open source CMS in the world. So there is no lack of resources or add ons. Whichever function you can think of, WooCommerce has it all. But these, Versatility comes with a cost. The learning curve is quite stiff. You can't expect yourself to be a WooCommerce expert from day one. You might hit a giant roadblock and end up seeking professional help, which will cost you money.
For the sake of simplicity, and for the scatterbrained(like me), I've compiled some pros and cons of WooCommerce vs Shopify. Take a look-
Pros of Shopify: Cons of Shopify:
Hosted software Transaction fees
24/7 support Costly apps
Multichannel integration
Pros of WooCommerce: Cons of WooCommerce:
Limitless customization Not beginner friendly
Scalable Hidden cost
Excellent value for money
Before choosing either of these platforms, consider the followings—
Load time
Ease of use
Support
Design-flexibility and mobile readiness
Site search
SEO tools
Product options
Upselling and cross selling
Integrations and apps
Scalability
Now, let's dive into the detailed comparison between WooCommerce vs Wix.
WooCommerce vs Shopify: Ease of use
WooCommerce is an open source self hosted platform. It is simply a WordPress plugin. Before you cannonball into WordPress, keep in mind, WordPress won't cut you any slack for being a beginner. You either need to have technical knowledge or need someone by your side who has it.
To get started with WooCommerce, you need to have the following:
Get a domain name
Sign up for a hosting account
Install WordPress
Find and install a WordPress theme
As I've mentioned earlier, it's not a plug and play experience. As a rough estimation, for a complete beginner, it might take a full weekend of work. If you decide to go down this path, clear your calendar.
If you're still adamant to choose WooCommerce, congratulations! You're one of the crazy ones(just like me). I would choose flexibility over convenience any day of the week. But then again, that's just me.
Now comes the next dilemma, which hosting to choose. As a general rule of the thumb, choose a hosting with—
Lightning fast speed
100% server up-time
24/7 customer service
On the other hand, Shopify is so easy to use. With Shopify, you can focus on your business in general, and Shopify will do the technical heavy lifting for you.
Shopify is a hosted solution, so you don't have to deal with those pesky hosting dilemmas as well.
As a beginner, you can't go wrong with Shopify, if money is not an issue.
Ok, now let's get real for a second (it's not like I wasn't being real so far, but still): Security.
Shopify takes care of your overall website security and also takes backups automatically. But with WooCommerce, you guessed it right, you've to do it yourself. And if you mess this up, then boy, you're in trouble. I have been burned, and I am speaking from firsthand experience.
Verdict:
Shopify wins! Shopify is way ahead of WooCommerce in terms of easy use. Moreover, Shopify provides phone support, chat support whenever needed.
WooCommerce vs Shopify: Design & Themes
Contrary to what society says, looks do matter in the world of eCommerce.
Have a slick and snappy website, you'll see conversion coming left and right. Have a dark and dingy website, you can say goodbye to your dream to become an internet entrepreneur.
Bottomline, it matters if your store looks professional or not.
Shopify's themes are polished, and mostly bug free because they are solely optimized for Shopify. And the collection is not half bad. Shopify theme store has over 70 free and paid themes. Premium themes start from $140.
But I must say, options are pretty limited. But they can get the job done.
WooCommerce has a huge theme collection. As WordPress is an open source platform, new themes are popping like mushrooms, even when you're reading this.
You can get by with a free theme. But if you're really serious about your business, you should go for a premium one. Premium themes come with more flexibility and customization options. You can get a premium theme from anywhere between $14 to $60. So, pick your poison.
Before buying any WordPress theme for your WooCommerce store make sure it has these 9 essential features.
But one thing is for sure, WooCommerce themes cost less than Shopify's.
Verdict
This is a really close one. On one hand, there is flexibility and endless options. And on the other hand, optimization.
If it was up to me, I would choose WooCommerce because I don't like to get myself restricted (you can say I have commitment issues).
WooCommerce has tons of themes with a low budget. Moreover, it gives limitless customization options. So, you can choose a theme and customize it as your own to stay unique.
What shopify offers is nothing to sneeze at. It's stylish, polished, most importantly optimized.
WooCommerce vs Shopify: Price
On the surface, WooCommerce is free to use. But don't get fooled, it has underlying costs. A typical eCommerce website on WordPress might cost you the following—
Hosting ($35-$50/month)
Security ($0-$200/year)
Domain ($10-$20/year)
Extension fees ($0-$100/month)
But, no matter how you look at it, Shopify will cost you more than WooCommerce.
To host your eCommerce business on Shopify, you can expect the following pricing—
Shopify (Basic)-$29/month
Shopify (Standard)-$79/month
Shopify (Advanced)-$299/month
These plans include domain name, SSL certificate, and web hosting.
Verdict
You've already figured out the answer, haven't you? WooCommerce the winner in the pricing scuffle. WooCommerce installation is totally free and its extensions cost just around $39 each on an average. And if you want to walk the extra mile, premium themes give you more features and greater customization.
Shopify's price plans are fixed and the apps are expensive too. It will be a headache especially for someone who's just starting out.
WooCommerce vs Shopify: Features
Both WooCommerce and Shopify are handy to build an effective online store. When it comes to features, both can go toe to toe.
Both of these solutions provide advanced sales features. Let's take a look at them—
Abandoned Cart Recovery
Shopify comes with an abandoned cart recovery feature, which gives it an edge over WooCommerce.
Shopify allows customers to complete an abandoned order without filling out their details again. Moreover, it also sends a retargeting email, reminding the shoper to complete the purchase. This feature alone can put you ahead of your competition.
For an eCommerce starter you don't want the sales to slip through.
WooCommerce lags behind in this regard.
Multichannel Selling
Multichannel selling allows you to sell your products on Amazon, eBay, Instagram, and Facebook from the comfort of your own website.
To enable this feature on WooCommerce, you have to pay extra. You need to pay $79 to install all of them except Facebook. Facebook is free to install here.
With Shopify, you don't need to pay anything as this feature is included by default.
Shipping
Shopify is ahead of WooCommerce in Shipping features. Both WooCommerce and Shopify offer free shipping and international sales.
Shopify is more advantageous than WooCommerce because of its partnerships with USPS, DHL Express, UPS, and Canada posting.
In short, Shopify has
Abandoned cart recovery
Discount codes feature
Unlimited products listing
Website and blog
Over 100 payment options
On contrary, WooCommerce has
Built-in blogging
Ridiculous amount of customization options
One-click refund for customers
Verdict
In my opinion, Shopify just takes the point as it comes with integrated, ready to use, handy features.
Most importantly, the Abandoned cart recovery plays a vital role in online business success. Shopify wins this round because of this feature that WooCommerce doesn't offer.
WooCommerce vs Shopify: Payment options
Your customers will pay through various payment getaways when you sell a product online. Some may not be suitable for you, and others may not be available to the customers.
Both WooCommerce and Shopify offer you a choice of over 100 payment gateways.
The main gateways are:
Stripe
PayPal
Credit and debit cards
Apple Pay
Square
Tons of payment gateways come with different transaction fees. Shopify charges 2% transaction fees in case of using a third party gateway.
One advantage is that Shopify has its own payment method known as Shopify Payments. But the caveat, it's not available all around the globe.
On the other hand, WooCommerce charges no extra transaction fees in any online sale. Even if you use a third party payment gateway, it won't cost you a penny.
WooCommerce also offers PayPal and Stripe payments which are built in. You can add more payment options by going premium.
Verdict
WooCommerce doesn't charge any transaction fees unlike Shopify does. So, WooCommerce is a clear winner here. I prefer Woocommerce because it'll give you the necessary options for payments.
6.WooCommerce vs Shopify: SEO Capabilities
If the customers don't visit your website, you simply won't sell. You can only attract visitors by making your way on top of the SERP.
But, you can never do that unless your website is search engine optimized. It also ensures your product appears high in Google's search results. When buyers type relevant words to your product, you want them to find you.
WooCommerce and Shopify both are robust eCommerce platforms. But when it comes to SEO, WooCommerce is light-years ahead of Shopify.
WooCommerce is integrated with WordPress along with a huge range of SEO plugins. With SEO, you can add detailed meta descriptions and titles to your page along with other technical stuff. So, you can tell Google what your products are all about.
Yoast SEO and Rank math are two of the most popular SEO plugins on the WordPress ecosystem. They're user friendly and highly effective.
Shopify also comes with its own apps and integrations that boost your store's. But it lags behind.
With Shopify SEO plugins, you can add descriptions and titles for your images, products and pages. And that's pretty much it.
SEO Booster is a free Shopify plugin that scans your store and fixes SEO related issues.
Verdict
WooCommerce is a clear winner here.
In WooCommerce, you'll have a wide range of SEO plugins. The plugins offer limitless customization and help you to get on top of the SERP.
Shopify plugins are restricted compared to WooCommerce.
WooCommerce vs Shopify: Customer Support
If you start an online store, sooner or later you will hit a roadblock. This is where Shopify outshines WooCommerce.
Shopify provides 24/7 customer support via
Phone
Live chat
Email
Twitter
In a word, Shopify goes above and beyond to serve its users. They're ready to help you anytime of the day. They're lightning fast to fix any technical issues.
Even though WooCommerce has a huge user base, it won't provide any direct support, which can be a major turnoff for beginners.
WooCommerce is a free WordPress plugin. This means you may get help from WordPress forums. But don't expect any direct help.
Verdict
Shopify is the clear winner when it comes to support. With shopify, you won't have to look for help if you trip and fall.
WooCommerce vs Shopify: Security
Ensuring a secure place for your potential customers is crucial for online success. You are responsible for the transitions as well as the safe keeping of your customer's personal information. So, it is important to choose an eCommerce platform with the highest security level.
WooCommerce is a self hosted platform. It means it has no built- in security feature. You can either manage your own security plugin for your store or hand it over to your hosting provider.
Shopify on the other hand is a hosted platform. That means you needn't worry about security plugins. They will take care of your store's security.
Shopify makes sure that your site is safe from hackers and cyber criminals.
SSL Certificate
SSL stands for Secure Sockets Layer. Shopify comes with built-in SSL. On the contrary, any website hosted on WordPress has to enable it manually.
Having an SSL plugin built-in your site gives you a ton of benefits. These include-
Customers' payments and personal information are secured
Helps your store's SEO as Google prefers a site with SSL
Your customers feel safe to buy or browse your site
Verdict
Shopify wins this one again. Shopify's built-in security plugins allow you to make business stress free. You get the highest level of security, plus you don't need to think of any security installation and updates.
With WooCommerce, you have to take care of your store's security by yourself. WooCommerce won't help you with SSL certificates or PCI-DSS.
Final thought
If you've read the entire article on WooCommerce vs Shopify, you must have a clear concept on which one is right for you.
Comparing these two is like comparing apples to oranges. Both have their pros and cons. But if you know what you need, you can cut through the clutter and choose the one which is most compatible with you.  
Choose Shopify if you:
Need 24/7 support,
Seek security
Need something user friendly
Choose WooCommerce if you:
Seek customization
Low on budget
Want to scale
Good luck!