9 must-have WordPress theme features in 2021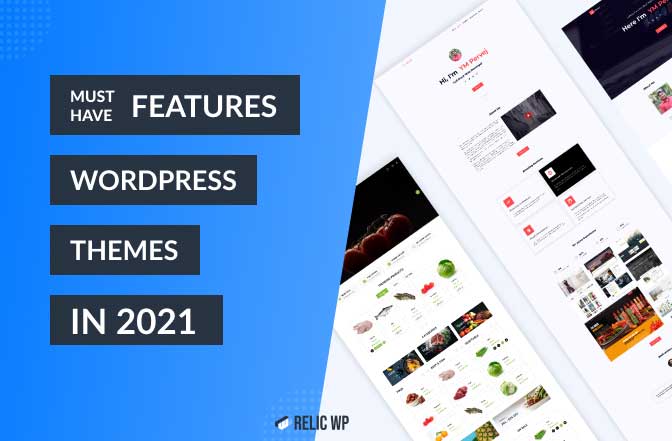 WordPress is the most popular CMS (Content Management System) on planet earth. It's adored by millions of business owners, bloggers, and publishers. To host your website on WordPress, you need to have a theme. And to make sure your website is up to the mark, you need to keep a close eye on your WordPress theme features.
In today's topic, I will discuss 10 must-have WordPress theme features, that every theme must have. So buckle up, and let's dive in.
The reason why people prefer WordPress over most other CMS is because of its—
Customizability
Flexibility.
Coincidentally, most of WordPress's customizability is tied to its theme.
It's the theme that makes your website more attractive and appealing to your visitors. So, WordPress theme features contribute a lot to your online success.
If the theme is feature packed, it allures the visitors and makes them stick to your website. So, you can't take WordPress theme features lightly.
The theme of your WordPress website works as the primary tool to change the layout and the design.
A theme customizes —
Colour scheme
Layout
Style elements
Typography
And a lot of other design elements
For the sake of simplicity, let's call these factors the must have WordPress theme features for any WordPress theme.
These features are crucial for any WordPress theme because you need them to use WordPress to its maximum capacity. Whether you're going for a free or a premium theme, you need to make sure your theme has these features.
But, I must admit, premium themes give you an edge as they're easy to use and feature-packed.
The most common WordPress premium theme features are—
Unlimited customization
After sales support
Fast update
Availability to latest and greatest features
As new WordPress themes are popping with every given second, you need to be extra leery when choosing the right theme for your website by making sure your WordPress theme features are relevant to you. By doing this, you cut through the clutter.
In my opinion, a theme acts as the brand ambassador for any website because it enhances the overall —
Of a website. To put it bluntly, your WordPress theme features make your content truly stand out.
So, here are the 10 must-have WordPress theme features.
A quick disclaimer: these must-have features are nothing but my opinion based on my years of experience. Nothing is set in stone, and you're entitled to your own opinion. So choose the theme at your own discretion.
Now that we have that out of the way, let's dive in—
Responsive Website Design
In simple words, responsive design is an approach of web design that adapts your web content to the different screens and window sizes of various devices.
Simply put, a responsive design gets adjusted according to your device viewport. Whether you're on your PC, or on your handheld, the layout would look perfect.
A responsive theme makes your website load seamlessly on all devices. If you end up choosing a theme that breaks on mobile, you'll fail at the mobile-friendliness test and Google would never rank your website. Scarry! So Responsiveness is among one of the most sought-after WordPress theme features.
Social Media Friendly
When choosing the theme, make sure your theme supports all the social network sharing buttons and they can stay sticky.
Supporting multiple social network sharing is vital, as we live in the era of social networks. Social sharing lets your visitors share your content effortlessly on their social media like Facebook and Twitter. And we all know more shares mean more views.
Just in case, if your theme doesn't come with a social sharing option, you can install social sharing plugins from the WordPress repository; it's not the end of the world.
To put it simply, having a social media friendly theme is crucial to expend your online business. Therefore, social media friendliness is among one of the most important WordPress theme features.
Page Style
Simply put, page style works as the arrangement or the layout of your website. Although it might sound like a simple feature, it works as the customer magnet.
There're certain functionality every website owners seek, like—
eCommerce support
Contact form support
Review section
Testimonials
Blogs
Every theme has their own unique design for these functionalities. So, when choosing your theme, make sure your theme's functionalities match your website's personality. I hope now you know why page style is among the most desired WordPress theme features.
SEO
Search Engine Optimization is the single most important feature that you simply can't overlook.
When choosing your theme, make sure it's SEO-friendly. It doesn't matter how fancy your website looks if it loads slowly and doesn't comply with search engines' guidelines, your website will never rank.
Pro tip: Make sure your website is using a custom slug for your blog posts.
Clean coding
Don't get overwhelmed. I am not asking you to be a web developer.
A well-optimized theme has blot free code and keeps security in the forefront. Quality code is the building block for a quality website.
When buying a theme, make sure the theme complies with WordPress's coding guidelines. There are a lot of tools available on WordPress repository to check the integrity of theme coding. And don't forget to search online about what the internet has to say about the coding of the theme you intend to buy.
Support and Update feature
A good way to measure the performance of a theme before using it is to check how frequently it releases new updates and how responsive is its support.
WordPress is constantly adding new features. But these features mean nothing if your theme doesn't add them in their updates.
A good-quality theme always makes sure its users are getting all the latest WordPress theme features. If a theme is sloppy at update release and sluggish at fast response support, then it's a major red flag.
Superior UI and UX
Can you ever imagine a website without a proper menu, search bar, and a page layout? Your customers wouldn't be interested to buy from you if your UI and UX is not top-notch.
Your customer is your priority and you should find a theme that attracts customers and is easier to browse by them.
Cross browser compatibility
Most of us prefer Google Chrome or Firefox to browse online. But there are millions of people who still use backdated browsers like Internet Explorer or earlier versions of any other browsers. Your loyal customer can be one of the folks who uses backdated web browsers.
Backward compatibility is one of those WordPress theme features that you simply can't ignore. If your theme is not backward compatible, you might lose valuable customers and visitors. So before selecting your desired theme, make sure it supports most modern browsers as well as old ones.
BrowserShots is a great tool you can use to check how your theme performs on different browsers and different version of browsers.
Page loading speed
Google has officially announced that page loading speed is a major ranking factor. So, you can't take it lightly anymore. If your theme has bloatware, it will get slow, period.
When selecting your theme, make sure it's coming from a reputed developer to avoid having those pesky bloatware.
As a general rule of thumb, avoid themes that rely heavily on JavaScript as JavaScript is notorious at render blocking. Render blocking causes longer page load time.
To check out how fast your theme loads, use speed testing tools like—
When all is said and done, WordPress theme features are your bread and butter.
If you make sure your theme has all the above-mentioned WordPress theme features, congratulations on finding the right one for you!
Having all these features ensures a fast loading and feature-packed professional website.
As my final tip, I would like to suggest that you tinker with multiple themes before picking the one you prefer. Don't just watch reviews. Test them by yourself.
WRITTEN BY
Rashed Mahmud
He is the one who makes the sculpture from the ones and zeros. Although initially reluctant, just let him get some coffee in his system and watch him work like a diesel engine.