9 essential features of a personal portfolio theme: A complete guide 2021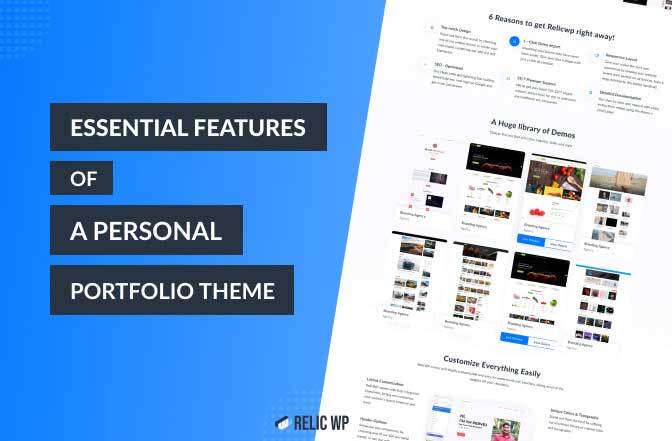 Hesitations are only natural when building your very first portfolio website. A good portfolio website can play a vital role to land your dream customer. But unfortunately choosing the right theme for your portfolio website can be taxing. Don't worry. I am here to help you. Today we will discuss 9 essential features of a personal portfolio theme. 
Let's talk about the portfolio theme. The theme is the key to make your portfolio stand out. So, my suggestion is the more you put emphasis on your portfolio theme, the more it will be an outstanding one. And more importantly, it will be eye-catching to the customers or users.
In this topic, I've covered everything related to the essential features for any personal portfolio theme. All you have to do is to go through this whole article and you will know all by yourself.
The growth of your online business greatly depends on your portfolio. So, your job is to represent the right information to the right place in the right way.
Here are the lists of possible essential features for any personal portfolio theme. Take a look
Interface design
Information about yourself
A high-quality self-image
Portfolio page with high-quality images
Live project demo (if applicable)
Testimonials by real clients
Well explained services
Contact information
Call to action
Content / Blog post
Relevant social media accounts
An FAQ section
I have discussed these features in detail. On top of that, I have highlighted a short discussion about a personal portfolio. So, without further ado, let's dive in—
Portfolio and Its Types
In my opinion, the portfolio is the mirror of what you are. The significance of a portfolio may differ from one to another, but it represents the same thing.
There are various types of portfolios. You need to determine what type of portfolio is best suited for your needs. I've discussed the types only for basic knowledge. Take a look—
Useful in an academic setting. It demonstrates knowledge that one gained in a given class or throughout a school career.
Useful in an academic and professional setting. It shows the efforts taken to complete a specific project or independent study.
Useful in a professional setting. It demonstrates your skill, background, accomplishments, and experiences.
Useful in an academic and professional setting. It enables your credentials to be more easily accessed via the internet.
Simply for your personal use. This portfolio can be used to understand who you are and where you would like to be in the future.
Personal portfolio and its necessity
A personal portfolio is a living and changing collection of records that reflect your—
Accomplishments
Skills
Experiences
Attributes
A portfolio can't be compared to a resume but it can uphold your abilities and what you can offer in the chosen field.
A personal portfolio is essential to have, because—
It allows you to appear more professional and creative
It is a way of self-discovery and confidence-building
It showcases your personality to potential employers and organizations
It is a useful tool to include in an interview
For your convenience, I have categorized the features that are needed for creating any personal portfolio. You need to know all about these features and prepare yourself to make your unique portfolio. Let's get started.
Before we get into the nitty-gritty make sure you ask for permission to load cookies from your customers, otherwise you will get penalized.
Must-have Features
Header Area
Show your name or personal logo
Your name is your main identity. Your portfolio begins with your name. Your customer will read your name first and then they will know more about you. Besides, you may use any personal logo if you have one. alternatively, you can use a logo for your company or your business.
Show the most important page link on your menu
Uphold everything that is included in your portfolio through the page linking. It will be smooth sailing, for any customer to visit any link he wants. He doesn't even have to scroll for it. The important page links on the menu may include About, Service, Portfolio, Testimonials, Contact, etc.
Sticky header helps easy navigation
In your portfolio, the sticky header plays a vital role. Your header area will always stick on top, even when a visitor scrolls up or down your page. Keep in mind, most themes offer this feature as a premium one.
Hero Section
The name speaks for itself
Mention your name here in big fonts. You can even put in a slogan here. Ex—
Hi! I am (your name)
Hello! This is (your name)
Hello! Myself (your name) etc.
Name of your profession or industry you belong to
Tell your customer about the job you do. Write your professional name here or your industry achievements. Suppose you are a web developer; you can write a full-time web developer below your introduction.
You may be followed by your customer on various social media like Facebook, Twitter, Linked In, etc. So, you must mention the social media accounts you have through icons.
This is an important part. Your customer will get to you through this section. Don't forget to write "Hire Me" so that your customer can get in touch with you by just clicking on it.
Show your visitors a high-quality image of yours in the portfolio. You may also provide a banner in case you own a company or business firm.
Certification or Achievement lists
Adding certification to your portfolio enhances your likelihood to get hired exponentially. Your certification or achievement carries a lot of weight to your customers. The more you add certification or achievements, the more your customers will be convinced to contact you.
This area is completely everything about yourself. Highlight everything that you want your customers to know about you.
Write a short description of yourself. The description will include your study (graduation and post-graduation), work, etc. Your customer will know about you from here.
You may also put the icon of CTA as "Contact me" to encourage your visitor to reach out to you.
Adding a video or a realistic picture of yourself humanizes you and enhances trustworthiness and authoritativeness. So, appear in the video and tell your customer what you are and what you perform.
Services that you provide
You definitely need to mention the name of the services that you provide. For example, as a web developer, you may mention services like front-end development, back-end development, WordPress development, Shopify development, and so on.
Short content about the services
Give a short description below the name of the services. Your customers will get a vivid idea about what you do through the description of the services.
Use service icon for extra attraction
Try to use the icon of your services for extra attraction. The icons of your services will bear a positive impact on your customers who visit your portfolio.
Experience
You will be given value on the account of your experience. The more you gather experience, the more clients and customers will be attracted to you. Your experience will be counted by—
The length of your work experience
You need to mention the length of your experience. You should tell your clients how long have you been working. For instance, 5+ years experience or 10+ years experience.
The number of your completed projects
Just mention the number of projects that you have completed. The number is not a factor. The factor is about your success in completing the projects.
The number of clients you have served so far
Mention the number of clients you have satisfied so far.
The number of clients who are satisfied with your work
Mention the number of satisfied clients who are impressed with your work. The more the number increases, the more your demand will increase.
The number of repeated clients
Mention also the number of the clients who have contacted you several times. You may also mention the percentage of the number of your satisfied clients.
Show the Portfolio of your work
Show the portfolio image of your work and live project link (if you have any)
Upload some images of your best work or project. You may also give the live project link here. Remember, client satisfaction is the key. So, any client may pay a visit to your work or live project by clicking on the image and live project link.
Client testimonials
Display your client's positive comments or testimonials
Your satisfied client will leave a message of appreciation. Display it on your portfolio so that your clients who are visiting for the time will know about your capabilities.
Contact Section
This section's sole purpose is to contact you. A person will contact you or message you by writing his name, email address, and what he wants to say in the message.
Footer Area
This is the last but extremely significant part, similar to the header area. Mention your name, your profession, and your social media icon here one more time. This is because any client may contact you at this section after visiting the whole portfolio and knowing everything about you. The advantage of this section is that the client need not to scroll all the way to the top to contact you. Except for your name, profession, and social media icons, you may include your contact number, email address, and your residence address(optional) here.
If you're still confused, read more blog post like this
Final Thoughts
It is time for a conclusion. I hope you have gone through everything that I have discussed above. Making an outstanding personal portfolio is not so hard if you have enough guidelines. I have tried to cover all the essential guidelines here in this content. Your personal portfolio theme is all about the features. Keeping them in mind, create a personal portfolio of your own and draw the attention of your clients as much as possible. Good luck!