How to install New WordPress theme: A complete guide for the beginners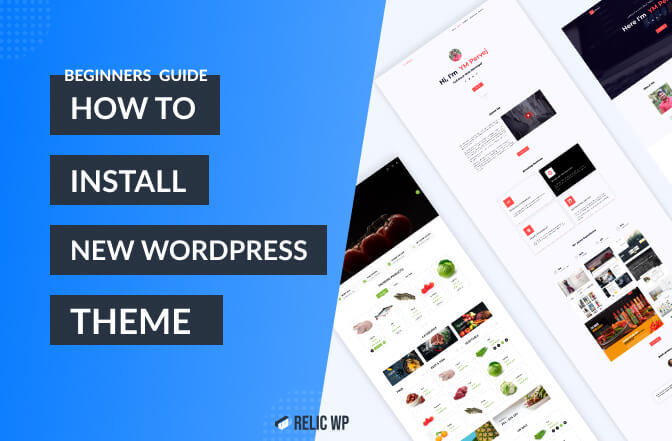 Themes are one of WordPress's more inherent and useful features. They enable you to customize your site's appearance. As a new WordPress user, you may put emphasis on customizing your site. Selecting the right theme will help you get rid of your headache.
So, choosing the right theme for your requirements is crucial. Otherwise, you will fall behind if you don't have adequate coding and technical knowledge.
The theme helps you to a great extent if you are lacking coding or design experience. In fact, many themes provide a ton of customization options that help you make the appropriate design.
As a first-time WordPress user, there may be a lot of questions running in your mind like:
What is WordPress Theme?
How does the WordPress theme work?
How can I get the WordPress themes (sources)?
How to download WordPress themes
How to install WordPress themes
Relax! You don't need to go anywhere. In this context, I will discuss everything about what you need to know. All you have to do is go through the whole content and you will get all your answers by yourself.
What is a WordPress theme?
A WordPress theme is a folder of files that works together to create the design of your site. Generally, it decides how your website will look visually and how your content will be displayed to your visitors.
A WordPress theme includes:
Template files
Stylesheets
Images
JavaScript files (possibility)
In a word, a WordPress theme shows the entire outlook of your website.
How does WordPress theme function?
I hope you have gotten a baseline idea of how a WordPress theme functions. Your chosen theme will make an outlook that you want to show to your visitors or customers. 
A theme doesn't modify your blog content, pages, users, or other information. Your theme only changes all the information that is displayed to your website visitors.
Let me state one more thing. A WordPress theme mainly consists of two files—
index.php – The main template file, which your visitors see when they visit your site
style.css – The main style file, which is used to style the content of the index file.
By doing minor changes to these files, you can customize your entire theme. The bottom line, the WordPress theme is easy to use both for an expert and a beginner. And the good news is that it is really easy to customize the latest WordPress themes.
Where to find WordPress themes? (Sources)
This may be a primary concern for you, especially if you are a beginner. Beginners often get confused about the source from which they can choose their required themes. I had the same feeling I was just starting out. Lucky for you, you don't have to as I am here.
You can find your WordPress themes from two quality places. Have a look.
The WordPress.org theme directory
Directly from WordPress theme developers
Now, let's dive into the detailed discussion about these two sources and from where you can find the right one for you.
The WordPress.org theme directory
The WordPress Theme Directory is considered to be the best place to get free WordPress themes. You can use this either from the web or from the dashboard. All the themes have been manually checked before enlisting them in the directory. This is the perfect place if you are looking for a budget-friendly theme.
You will be able to access information on each and every theme individually. Thus you can see—
How many active installations a theme has
When it was last updated
Customer review and ratings
The theme's support forum
In addition, you can preview the theme directly from its landing page. You may find a link to the developer's website if you want to dig even deeper. This gives you a chance to see the theme's performance.
In short, downloading and installing themes is a cakewalk if you decide to get it from WordPress.
Directly from WordPress theme developers
A number of WordPress theme developers sell their themes directly. But you must check the quality before making any purchase. You can take this route if you don't want to search through the clutter of the WordPress directory. 
Here are two recommendations for you.
StudioPress- It works as the developer of the Genesis Framework. They offer you a wide range of premium child theme options that cover a number of niches and designs.
ThemeHybrid- It offers you a variety of free and premium themes. It's a membership site providing layers of support and theme options according to your choice.
There are other sources besides these two. For example, WooCommerce offers the Storefront theme.
Sometimes, even after having all these sources, you might not find what you are looking for. On such occasions, I have a solution for you. You can create your custom theme by hiring a developer directly. But I must warn you that custom theme development can be extremely expensive compared to a pre-packaged premium theme.
What is the right theme for you?
Okay. You want to start your WordPress website. The first thing that should be in your mind is the theme. There are a ton of themes to choose from. The choice is yours. 
Here is a list of the Top 19 WordPress blog themes of 2021 that I have compiled
It is smart to choose a theme that has endless designs and features but also is actively updated and maintained.
Depending on how they are gated, themes can be classified as follows—
I'll discuss each of them briefly below.
Free Themes
Free themes are absolutely free. That means you don't have to pay a penny to get them. All you have to do is to download, install and activate the theme.
Thousands of free themes are available. As I have mentioned above the safest and easiest way to find a free WordPress theme is to visit the wordPress.org theme directory.
If you have a limited budget or even no budget, you can always rely on these free WordPress themes. Although these themes are free, don't underestimate them. A lot of them are feature-packed with pretty good layouts and customization options.
The advantages of using free WordPress themes at a glance-
They're free to use, which means if you end up not liking it and want to change your WordPress theme, you've lost no money for giving it a try.
At first the free themes in the theme repository pass through a strict review process. Then, they are officially approved.
Free themes in WordPress.org will be suitable for all the free plugins in WordPress directory.
Examples: Zakra theme, Spacious theme, ColorMag, Flash, Astra, etc.
Premium Themes
On the other end of the spectrum are premium themes, you have to pay a certain amount of money if you want to use a premium theme. One thing worth mentioning, the price of the themes may vary according to the quality and its feature options.
Take a quick look at the benefits of premium themes.
Additional features
SEO friendly
Highly optimized and performance-focused
More customization options
Example: Divi, Essential, Avada, etc.
Freemium Themes
Freemium themes allow you to test the themes before purchasing them. Freemium themes are considered to be the best solution and choice for both buyers and sellers.
The benefits of Freemium themes are at a glance.
No primary investment
Need to pay for extra features
Example: Freemium themes like Spacious, Zakra, Flash, ColorMag, etc are available in ThemeGrill.
How to Download a WordPress Theme (Step by step)
You need to download manually if you have purchased a theme outside the WordPress theme directory. Just follow these simple instructions to download or upload a theme.
First, download the theme's.zip file from a trusted source on your computer.
Go to WP Admin, from there, head over to Appearance.
From there go to Themes and click the Add New button.
Now simply upload the theme to the Upload Theme section.
Click Choose File, bring the theme zip file from your computer and press Install Now.
Once the theme is imported from the zip file, you can activate it from your admin panel.
Go to the Appearance tab and head over the Themes directory
Locate the theme and simply Activate the link.
How to install a WordPress theme (Ins and Out)
Before you organize your site with your brand new theme, you need to install and activate it. You can do it in several ways. Read the following detailed discussion.
Install a theme from the WordPress dashboard
The basic steps for most themes are as follows.
Log in to your WordPress admin page, then go to Appearance and select Themes.
To add a theme, click Add New. From this page, you have two ways to add a new theme. You can search in the Theme directory in case you know your theme's name. Refine your search using Feature Filter in case you don't know your preferred theme's name. To meet your search criteria, check any tags and click Apply Filter for a screen full of themes.
If you are ready there are two options. Choose Preview to see a demo of the theme or install it by clicking the install button. Click the Activate link after installation.
You're ready to go. You can preview your site for its look.
I recommend reading the theme documentation to find in-depth instructions regarding installation. Some themes need more steps to follow than others. So, you have to do the required tasks for your chosen theme.
How to install WordPress themes using FTP
Suppose you have a WordPress theme on your computer. Then, it is possible to install it using File Transfer Protocol (FTP). But there is a risk of deleting or modifying files in case you use this method wrong. Only experienced users should rely on this method.
Follow these steps to use the FTP to add new themes manually.
To begin, you must have
An FTP hostname
Username
Password
An FTP client
I've used FTP client Filezilla to show the steps in this tutorial.
Get into Filezilla with your login credentials and Quickconnect.
Follow the following window to get into the root directory. Select /rootdirectory/web/content/wp-content/themes.
Once there, select the folder with the saved theme, right-click for more options, and press Upload.
Now you are done with filezilla, go to your control panel from there go to Appearance under appearance go to Themes, and click Activate.
Now to wrap things up, go to your control panel, from there to Appearance > Themes, now simply activate it.
Don't forget to check whether the new theme works perfectly or it breaks the front-end.
Bonus: Can I customize my WordPress theme?
Well, the good news is of course 'Yes'. You can customize your themes and change the appearance of your site.
Follow these short steps about how to customize your theme.
Go to your WordPress customization page. From there head over to the dashboard and click Appearance >> Customize.
It will load the customizer panel, which allows you to customize the website in real-time. On the left, you'll see all the options that allow you to customize your website on the go.
On the right, you can see the effect of the changes in real-time.
Some options you can customize are your Site Title and Tagline, add Menus, Colors, Background Image, and add Additional CSS, etc.
Now you know themes play a vital role in making a great website. And, you also know how to choose one based on your requirements. So, stop reading this and go get yourself a perfect theme and build a great, outstanding, good-looking, and highly visited website.